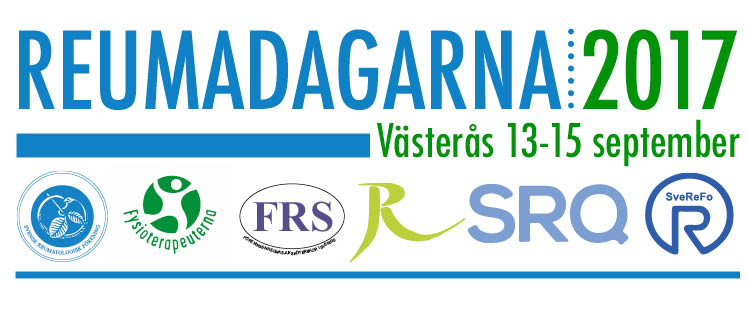 Fysioterapeuternas Precourse
A?sa Tornberg; Eva Degerheim Frykstad
Hja?rnstark-Hur motion och tra?ning sta?rker din hja?rna -
JAK inhibition -"From molecules to medicine a JAK inhibitors pathway to the clinic" - Updated EULAR recommendations regarding RA. With focus on JAK inhibition.
SRF ha?lsar oss va?lkomna till Reumadagarna!
Va?rdsymposium - utvecklingsprojekt pa? kliniken
Maria Nyga?rd; Anna Gustafsson; Anne-Lie Stenvall
Eftermiddagsfika i utsta?llningen
Presentationer av va?ra guldsponsorer
Frukostsymposium av Novartis - PsA
Levnadsvanor och Reuma Direkt
Ann-Marie Calander; Maria Nylander; Susann Arvidsson
Ingrid Lundberg; Louise Diederichen
Fo?rmiddagsfika i utsta?llningen
Valentina Bala; Reem Altawil; Joanna Tingstro?m; Li Alemo Munters
Temasymposium 2 - Vaskulit
Ma?rten Segelmark; Carl Turesson; Erik af Klint
Eftermiddags fika i utsta?llningen
Hur komma in i och stanna kvar i arbetslivet?
Rikke Moe; Johanna Ellung; Ann-Kristin Hegvold; Amila Srabovic; Ingia?ld Hafstro?m
Frukostsymposium av Eli lilly - Baricitinib
Lars Klareskog; Peter Taylor
Sma?rta- teori, upplevelse och sma?rtskola i praktiken
Kaisa Mannerkorpi; Camilla Tell; Tidiane Diao; Eva Waldheim
Temasymposium 3 - Systemic Sclerosis
Roger Hesselstrand; Ariane Herrick
Nanna Svartz fo?rela?sning